The most recent club launch that took place had the best weather that we have not had for some time. We had six people in attendance with a lot of great successful flights. Don, Vernon, Daniel and myself all had great flights. Vernon launched one of his 3D printed rockets up on an Aerotech 24mm F44 motor and it must have achieved an altitude of 800 feet. He also launched a cool Estes kit with landing legs called "Destination Mars" and an electric propellered kit.
Don launched the Estes Helicopter recovery rocket called the "Flip Flyer" which had great rotation recovery on the three flights he had with the kit. I need to get one of those cool kits. He also launched the Estes Conquest model rocket and the Multi Roc kit in the two-stage format.
Daniel brought out an arsenal of rocket kits. He had several different Nike Ajax rocket models that all went up and recovered perfectly. He launched the DynaStar Snarky model rocket that was very impressive to see during liftoff and ascent. An Estes E12-4 was used with one of Daniels Nike Ajax rockets and was picture perfect. He also launched a LaunchPad Nike Ajax on an Aerotech E15-4.
I launched two 18mm J&H Aerospace boost glider kits. One was perfect with the Estes B6-2, the other one was not as successful. I think it was due more to launch rod whip and not the glider. I then launched the Estes Executioner rocket which had two great flights with the Estes E12-4 motors. The second flight I added the Jolly Logic Alt 3 just to see how high it went and the altimeter read 541 feet: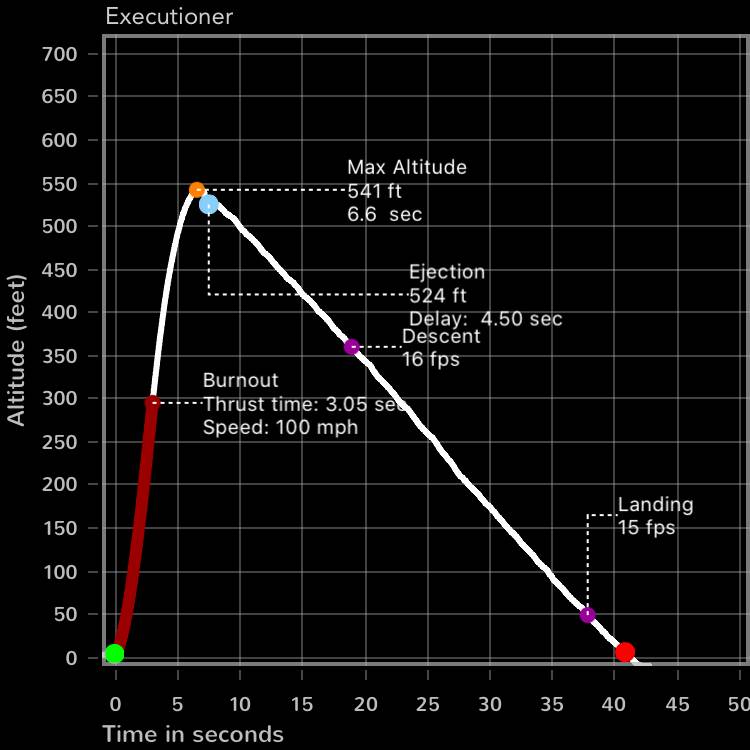 The weather was so great, that I had wished myself that I had brought more rockets 🙂
I do hope that our next launch has picture-perfect weather like this great launch day.